Farming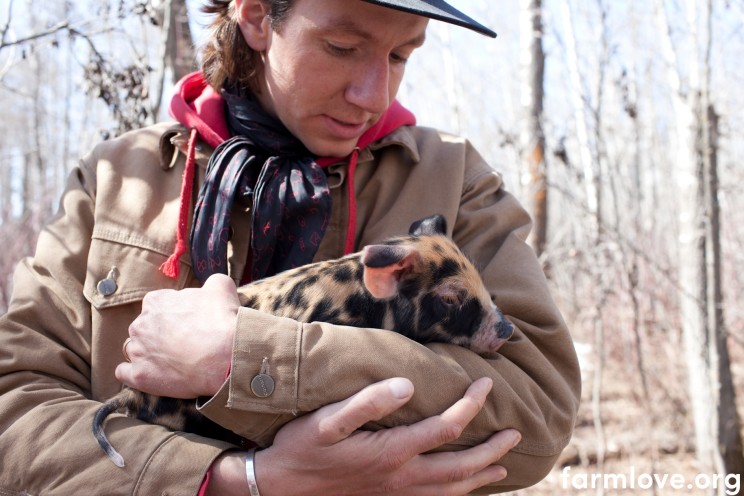 Blake Hall, of Prairie Gold Pastured Meats with baby pig in forest stand on farmland in Red Deer, Alberta. Blake practices holistic management (HMI). These pigs spend time in a forest stand helping to root up the forest floor, decompose the woody debris, turn up the soil, fertilize the land, and germinate native species. Blake will move them through the area so that they don't spend too much time in any one spot and so that the ecology benefits the most possible from its interactions with these land stewards.
Blake hosted a Young Agrarians farm tour with Steel Pony Farm, this past March. We had around 70 farmers and farm lovers come from the surrounding area to tour the farm.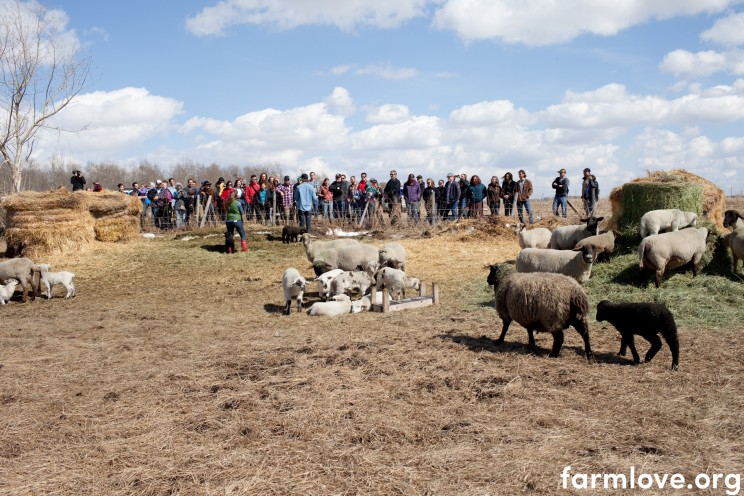 Steel Pony is a mixed vegetable operation that benefits from being on farmland with Prairie Gold. Together they manage fertility and stack life upon life in Canada's beautiful prairie landscape.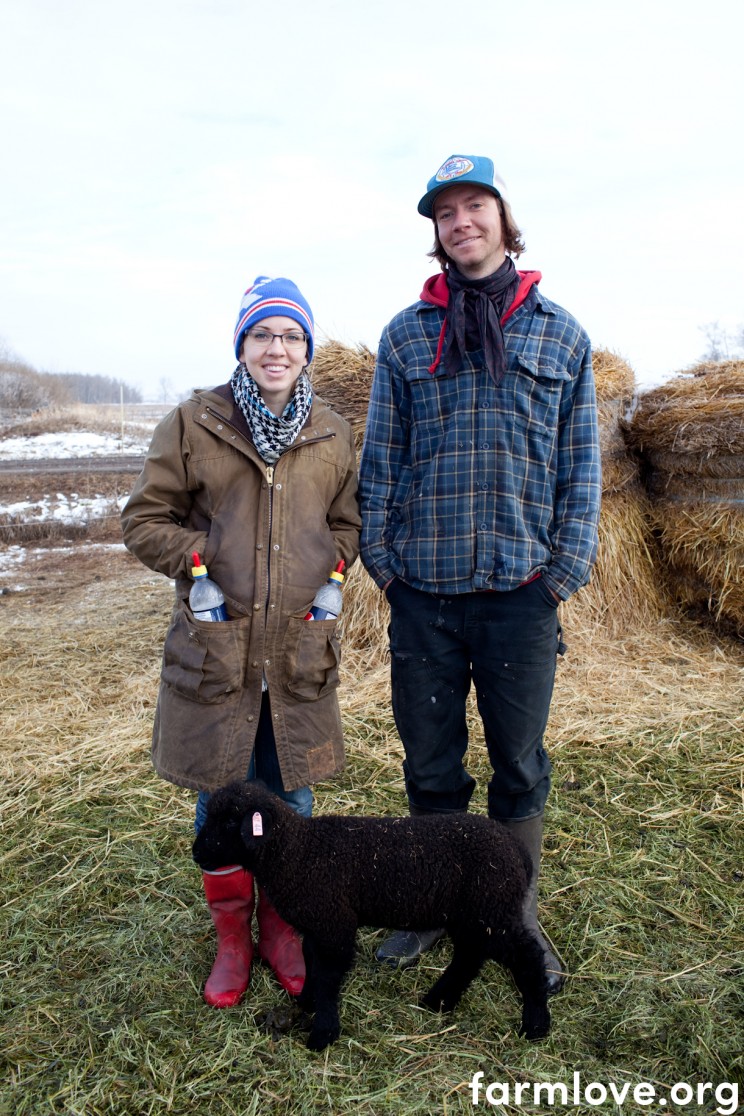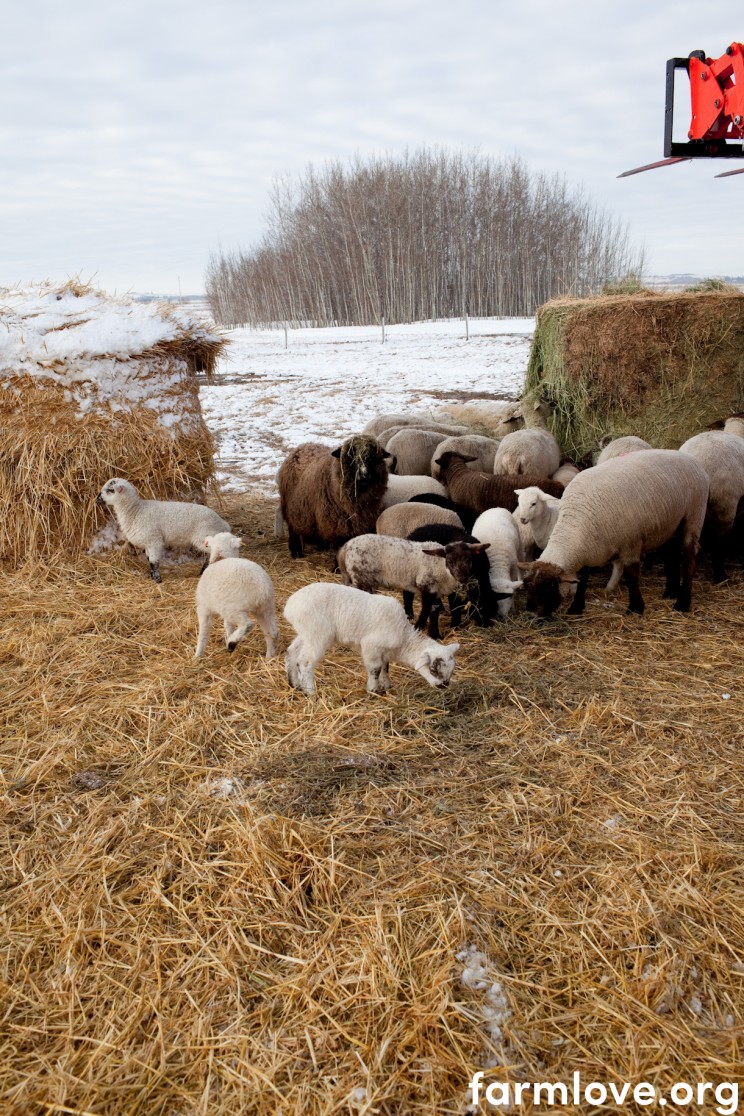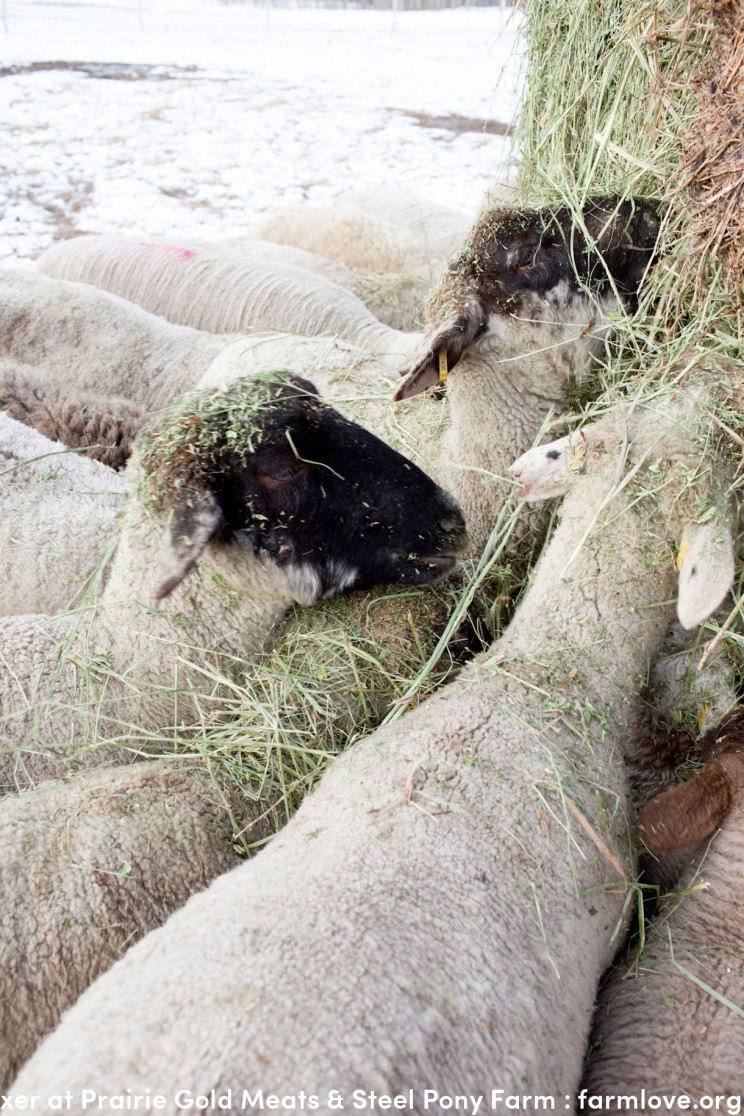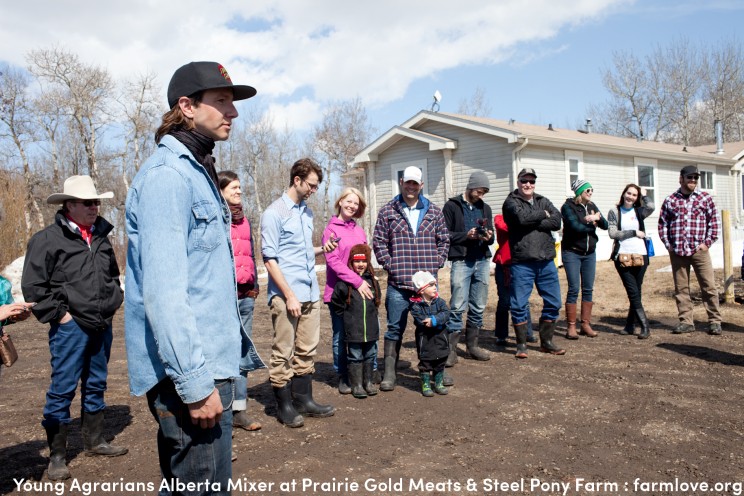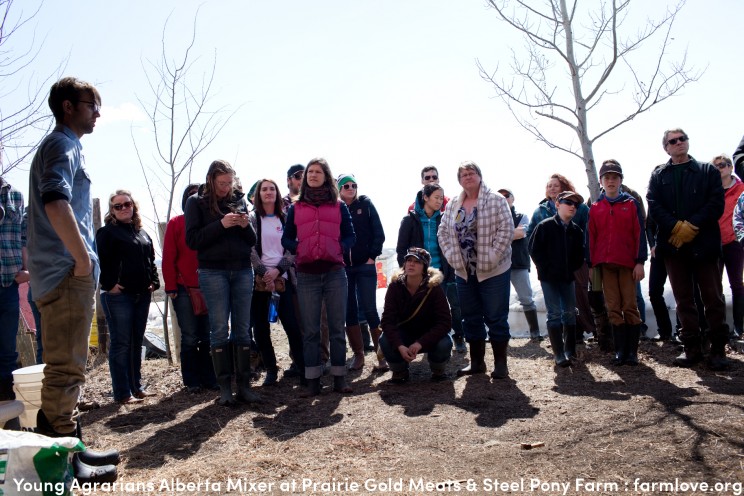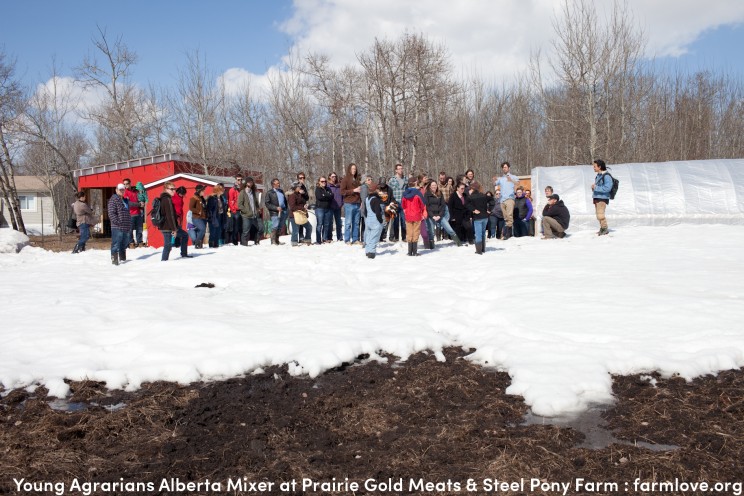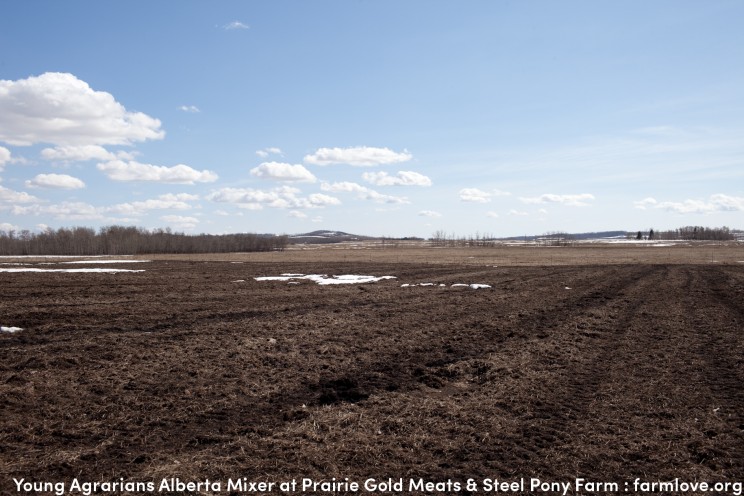 Its been a big year. Young Agrarians has turned from a seed into many plants as we work with more and more farmers and organizations across BC. The work growing the network is good, and admittedly stressful. The issues that new farmers face are various from access to capital and land, to the complexities of business start-up in todays economy, to the overwhelming need for consumers to get educated about where food comes from- and why certified or uncertified organically grown food is important to our local communities, ecologies and economies.
Generally speaking, the cost of production for small scale certified or uncertified organic producers in B.C. is higher than the return on investment in the first five years in many cases.  However, if you factor in social and environmental capital into the cost/benefit analysis, ecologically grown food represents a huge benefit to us over all and is key to our long-term ability to weather climate change and feed ourselves.
In B.C. and elsewhere, organics are costly for farmers to produce and consumers to buy because of the high cost of production – B.C.'s land values are almost double other provinces in Canada and farm inputs are expensive (feed, infrastructure, seed, etc.). The ecological farmer today has lost much infrastructure compared to days gone by including agricultural extension services (govn't paid farm scientists or agrologists that supported farmers to develop their farm operations). There is a deep need for change if we want the next generation to be able to work the land regeneratively. We need many more people to support food systems we grow with our hands and purchase from local producers.
Our home is on First Nations land in Canada. Indigenous food sheds and lands, which in many places have been contaminated by industry and increasingly altered by climate change- need to be stewarded not destroyed. I believe we can work collectively to better understand and support our foodsheds and peoples to grow and regain resiliency over time. There are a lot of barriers to small food producers, fishers and ecological farmers to get on their feet in the current economy. We have a lot of work to do to transform our foodsheds into healthy community-driven (grown, purchased, distributed, supported and locally financed) food systems.
My deep hope is that the food movement will continue to grow and flourish and make for a healthier food system in the years to come. The young agrarians networking we do on farms, through the tours and potlucks that we co-host with farmers, community allies, organizations and agro-ecology educational centres in B.C. – along with our fall land linking events (bringing together land owners with land seekers) and winter young farmer mixers, aim to build relationships and connections to nurture collaboration and support new growers.
I have been fortunate to travel to different parts of BC and meet people and learn more about what people's challenges, successes and dreams are. This last adventure took me to O.U.R. Ecovillage on Vancouver Island. O.U.R. Ecovillage offers internships and apprenticeships in ecological building, permaculture design certification, gardening, homesteading and much more. O.U.R. is at the heart of land reform in British Columbia having recently won a new land zoning designation that allows for the building of multiple dwellings on one property without having to subdivide. Me and the garden interns made some photo art together.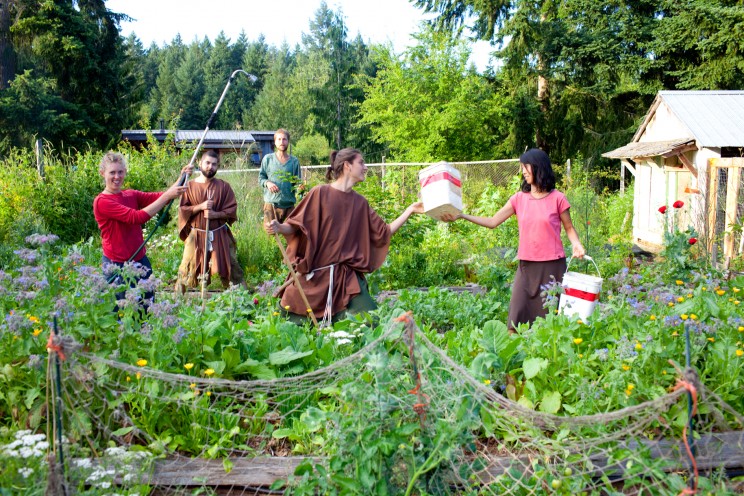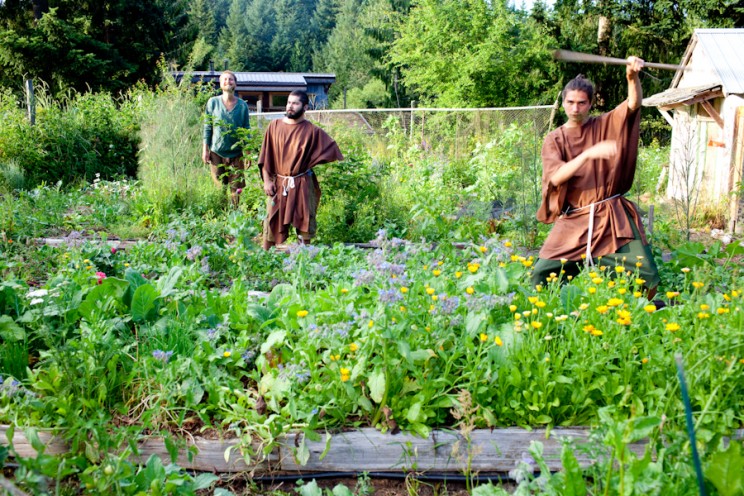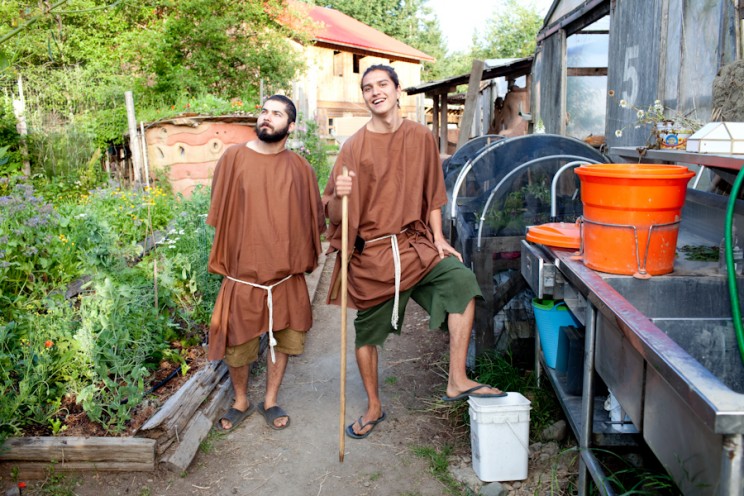 Photos of: Asivak Koostachin, Hasi Eldib, Morgan Eichwald, Ian Giesbrecht and Obang Seungyeon.
I had an hour and a half to pull off "The Last Supper?" The Linnaea garden program was in its sixth month and I knew that if I didn't act soon, I would miss my chance to do an art project with the garden students and farm stewards. We all agreed on a date and time. I asked everyone to wear white knowing that probably only half would. Perfect. We had fourteen instead of thirteen bodies because baby Melina joined us. Zuzannah was amazing as Jesus. She was the only one who prepped for the shoot gleaning inspiration on-line; that she looks pregnant with the planet was one of those beautiful Momma Gaia coincidences. I have about 20 amazing shots where everyone is in a different pose. The only instruction I gave was to please not look directly at the camera.
The intention was to reclaim the Last Supper biblical motif as a cosmological alternative to our contemporary North American pro-consumerism worldview- with a humble offering of community, natural food systems and our precious, beautiful Earth.
Much of the inspiration came from one of the best films I have seen: Khadak http://www.khadak.com/at the 2007 Vancouver International Film Festival. Focused on Mongolia, the film features a Last Supper scene that is hauntingly beautiful, and which represents to me, a counter-cultural statement to the dominant Euro-centric and colonial worldview that enforces violence, alienation and displacement. The movie tells the fictional story of a young man forceably removed from his animals and nomadic, ancestral way of life to a mining town; contextualized within the true story of a people forced to destroy the very landscape that physically and spiritually sustained generations of Mongolians. The protagonist undergoes a painful journey away from his animals into a love story that ends tragically in a mental asylum. The movie shows the mental illness that developed amongst people cut off from their animals and land- cultural and spiritual genocide for an animist-centred people.
What's on and around the table?
Ms. Chicken and baby Melina were incredibly patient. Cayenne the horse was a last addition, galloped from one end of the farm to the other. There were three (approximately four hundred pound) baby cows that had tried to take the table out and we had to keep an eye on their location. The sun magically came out from behind the clouds and hid again moments after we wrapped. Folks collectively decorated the table with farm fresh zucchini's, tomatoes, wheat husks, eggs and milk. The lego tower, old typewriter, 1970's TV, colonial globe and empty oil barrels juxtapose modernity with the surrounding ecological and local, organic food perspective- a much older way of being in the world (eating and growing local) that has existed for centuries pre-industrialization. Half of the people at the table are looking off in the direction of the sun, as if waiting, looking and contemplating the future. I ask the viewer to contemplate their relationship to food and worldview.
To hear the 2008 Linnaea Garden Students, check out Deconstructing Dinner:http://www.cjly.net/deconstructingdinner/112609.htm